Former Member (2011-2021)
Instrument: Lead Guitarist
Hometown: Seattle, Washington
Random Fact: Lives and breathes the movie Top Gun
Andreka Jasek (on-dre-kuh Jay-sic) is a founding member and former Lead Guitarist of The Adarna.  1st generation Polish-American originally born in Florida, she moved to Seattle at a young age where she immediately became a figure in the Seattle music scene.
 It was there that she met William and together they founded The Adarna.   Andreka attributes much of her guidance in the music industry to her 3 mentors: Clyde Holly,  Chris McClurken, and her brother, Zig.     Some of her passions include speed skating, riding motorcycles, modeling, reading, playing Super Mario and Rocket League, and hanging with her cats - Radar & Lyric.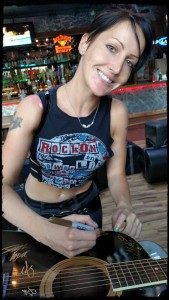 Andreka has been a member in a number of bands that she helped found including Liquor Box, Homewrecker, She Knows, and Revolution Red.
ENDORSED:
Gibson/ Epiphone Arist
InTune Guitar Picks
GEAR:
Guitars: Gibson SG, Ibanez Acoustic
Amplifier and Cabinet: Marshall 1960 A | Peavy 5150
Pedals: Headrush
5 Albums That Changed Andreka's Life:
TLC -CrazySexyCool
Metallica - Reload
The Cult - Love
Dr. Dre - The Chronic
GNR - Appetite for Destruction