Hey Guys!  It's William here.  Now that the Lucky 7 Tour is complete we can all stretch out and relax a little bit.  Sure, we're feeling a bit antsy after getting back but these past 5 weeks have been a whirlwind for the band and I wanted to share some of my post-tour thoughts with you guys.  Though this was our 10th National tour, we've never shared a tour with another band before, so this was a real treat for us to see how Hinder,.  Saving Abel, and American Sin operated.  Overall we had a blast, it was exhausting and there was a lot of driving but it was so worth it.   We made so many new fans, friends, and spread the word of The Adarna!
The 2019 tour kicked off May 23d from Seattle playing shows along the way to meet up with the bands in Marion IL one week later on the 30th.  Right away we could see this was going to be a great experience.  Not only was it our merch lady's birthday, Kathi, but she was presented with a cake from the staff on the first show!  On top of that, the show was awesome!  We played well and got along just fine with all the bands.  Of course, there were challenges every day from super long drives, equipment failures, our tour bus (Wendy) acting moody, to constantly feeling grossed out from sweating from days of touring in the summer.   But it was great!
I want to take a moment and focus on talking about Hinder.  Saving Abel, and American Sin were great guys to tour with and a lot of fun to hang out with.  However, we spent the longest time with Hinder so we ended up getting close with them and their crew.
THOUGHTS ON HINDER:   On behalf of The Adarna, we are nothing but floored by how professional,  fun, and talented these guys are.   Cody, Rex, Blower, Mark, and Marshal are just great dudes all around!
They surrounded themselves with a great crew who are tale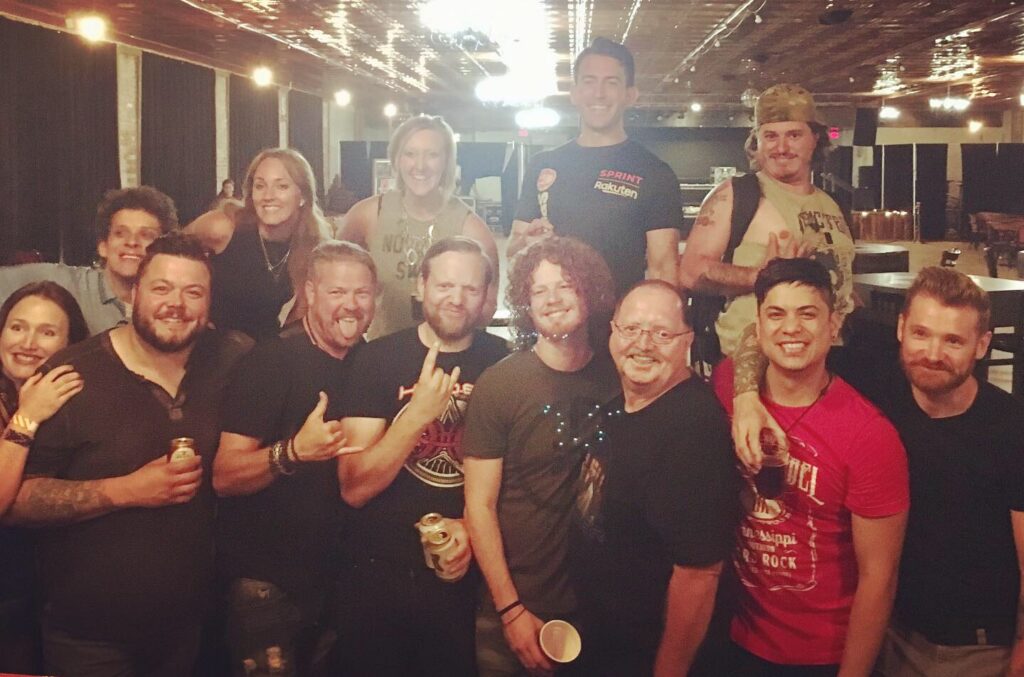 nted musicians themselves and have been part of their Hinder family for some time.   Getting to meet their crew Jimmy, Sam, Shipley, and Cody (Poop) was like an extension of getting to really know how this band has been working for so long.  They were kind and gracious to their fans which says a lot about a band.     But the number one thing I was most impressed by is that they STILL love playing music after all this time.   They were having a great time on stage and it didn't matter if we were playing to a sold-out crowd or an intimate crowd.    This was a great learning experience for us.
I like to think that we uphold those very ideals that support our music that I find myself gushing over Hinder about.  The distinctive difference is TIME.  They've been doing this for so long and they still love it.  I don't know how often we meet bands who just don't share with us what they love about their art.  That's probably the biggest let-down about meeting musicians we respect along the way.   Some of them just forget the basics because of all the grinding and politics that come along with touring.  They forget to show us what they love.
What are the next steps?  Well, The Adarna will continue touring everywhere we can and sharing our music.  We will modify some of our marketing and we probably owe you some new songs so we'll spend some time writing before then.
I'll leave you with this,  this is a video that speaks louder than anything I could say from our last performance with Hinder, where they asked American Sin and The Adarna to join them on stage.